Meghann, a partner at Redstone Law Firm, is the team lead of the Employment Law practice group and a member of the firm's Litigation practice group. Meghann represents clients on a wide range of commercial litigation matters, handling employment, construction, trusts and estates, and other business disputes.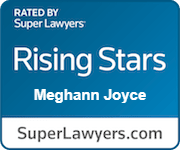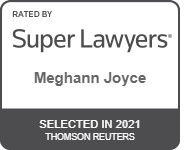 Primary Practice Groups:
Employment Law (team lead)
Litigation
Labor and Employment Law
Construction Law
Trust Litigation
Appeals
Meghann's professional background:
Education
University of South Dakota (J.D. with high honors, 2009)
University of South Dakota (B.A. with high honors, Political Science, 2006)
Experience
Following law school, and before entering private practice, Meghann worked as a law clerk for the Honorable Glen A. Severson of the Supreme Court of South Dakota. As a law clerk, she reviewed hundreds of briefs, heard dozens of oral arguments, and assisted the Court in preparing for oral arguments and researching and writing decisions.
Meghann has worked in private practice in Sioux Falls for more than ten years. In those ten years, she has handled a wide variety of commercial litigation matters, including labor and employment law disputes and trust and estates litigation. In the employment-law realm, Meghann has experience both bringing and defending employment-related claims, giving her the unique ability to understand and anticipate dynamics on both sides of these cases. She also enjoys helping her business clients proactively protect their businesses and ensure the well-being of their employees by updating employee handbooks and policies, offering employee training, or providing guidance on difficult employment situations. She also has experience conducting internal investigations and working with clients as they navigate the administrative process of bringing or responding to charges of discrimination. In any matter, her priority is to ensure the comfort and confidence of her clients during challenging and emotionally-charged moments.
Memberships
State Bar of South Dakota

Practice Rules Revision Committee, CLE Committee (Current Co-Chair)

State Bar of Minnesota
Eighth Circuit Court of Appeals
Second Circuit Bar Association (Former President)
Second Circuit Women in Law (Former President)
South Dakota Trial Lawyers' Association (Former Editor of the Barrister)
South Dakota Defense Lawyers' Association (Current President)
Sioux Falls Business & Professional Women
Sioux Empire Society of Human Resource Management
Prairie Family Business Association
Most interesting place she's visited in South Dakota: Meghann's favorite place in South Dakota is the bluffs of the Missouri River near Chamberlain. Traveling west on I-90, the view of the Missouri River with the western bluffs rising up in front of her takes her breath away every time.
Little known fact about Meghann: Meghann worked in the kitchen at Wall Drug for three summers. She said it was a great experience working alongside students from all over the world. She asks, "Have you dug Wall Drug?"
Places where Meghann is serving to Make It Better: Meghann is on the board of the Boys & Girls Club of the Sioux Empire because she is passionate about nurturing and educating children and youth in our community to prepare them for lifelong success. In addition, she is the co-chair of the State Bar of South Dakota's Continuing Legal Education Committee.
Meghann's favorites:
Movies: Walk the Line and Tombstone
Books: Life of Pi by Yann Martel, Uncle Tom's Cabin by Harriet Beecher Stowe, and Pride & Prejudice by Jane Austen
Songs: Sweet Caroline by Neil Diamond and Let It Be by The Beatles
While not at the office working with the Redstone Team, Meghann enjoys: Spending time with her husband, who is also an attorney, her children, Henry and Abby, and her dog, Pippa. Meghann also enjoys running (preferably with her dog), yoga, traveling, cooking, and baking pies.