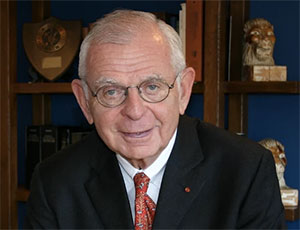 Redstone was formed nearly twenty years ago by Jeremiah D. Murphy (1930-2011), Vance Goldammer and Terry Prendergast. Matthew McCaulley and James E. McMahon (former U.S. Attorney for the State of South Dakota) joined the firm shortly after it was formed.
We've built a team of professionals who share common core values. We work together to deliver the best advice and achieve the best possible outcomes for our clients. While the world around us changes, our core values of Hard Work, Good Judgment, Collegial Work Environment, and Make It Better remain constant—forming a solid foundation to serve our clients now and in the future.
A key part of our firm's history was Jeremiah D. Murphy, one of our founding partners. At the time of his passing, Jeremiah had practiced law and lobbied in the South Dakota Legislature for over 50 years. Between them, Jere and his father, John S. Murphy, lobbied in the South Dakota Legislature for nearly two-thirds of all South Dakota legislative sessions since statehood. Jeremiah D. Murphy helped define our core values, and was a mentor to younger lawyers as he gently guided them on their journey to becoming good lawyers and good people.
Redstone's past experience and future vision uniquely position us to meet the challenges of a changing world and provide our clients with a foundation where they can build on our experience.