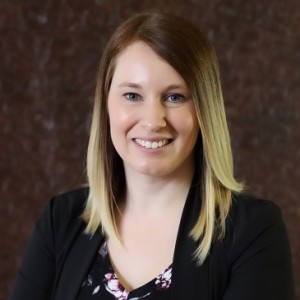 Sarah is an Advanced Certified Paralegal and works primarily with Lisa Prostrollo, Meghann Joyce, and Chris Sommers in the Litigation, Business Law, and Government Relations practice groups.
Sarah reflects our core values. Here is what colleagues say about Sarah:
"Sarah has a quiet demeanor and her actions do most of the talking: she's efficient, competent all around, and a dependable team player who delivers what's needed."
"Sarah was an instant "like" for me. She is soft spoken, but she is extremely capable and competent in her work."
"Sarah knows how to get things done – her tenacity and resourcefulness are definitely an asset for the team."
"Sarah is a hard worker and always willing to lend a hand on projects. She is very efficient and deals with fast-paced matters and deadlines with ease and gracefulness."
"Sarah has a wonderful personality and is always willing to answer any question - even while juggling multiple tasks"
Most interesting place she's visited in South Dakota: Sarah hiked with her family in the Crazy Horse Volksmarch (a 10K hike up to the arm of Crazy Horse).
Little known fact about Sarah: Sarah moved to South Dakota from California at age 11 -- in the middle of the winter.
Sarah's favorites:
Her Responsibilities at Redstone: Sarah enjoys continuing her legal education - each day at Redstone brings something new.
Movies: Magnolia, The Royal Tenenbaums, and Lost in Translation
Books: The Book Thief by Markus Zusak and Still Alice by Lisa Genova
While not at the office working with the Redstone team, Sarah enjoys: Spending time with her husband Dustin and their two children: Madalyn and Joel. Outside of the home, Sarah enjoys reading, biking the Sioux Falls bike trail, and traveling.
Sarah's professional background:
Advanced Certified Paralegal at Redstone 2017 - present.
Certified Paralegal at Redstone 2016 - 2017.
Legal Assistant at Redstone 2012 - 2016.
South Dakota Paralegal Association 2015 - present.
National Association of Legal Assistants 2016 - present.
A.S. degree from Colorado Technical University in Paralegal Studies, highest honors, 2012.